Board of Directors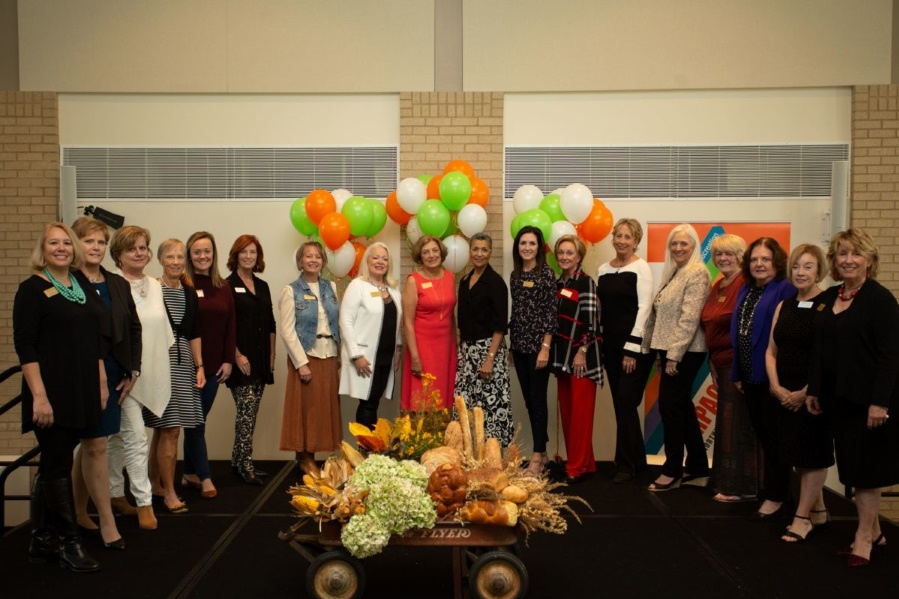 Cindy McCue, President
Cindy McCue is an Ohio native who lived in Michigan for 30 years before becoming a full time resident of North West Florida. She has an undergraduate degree in Business Administration and a Masters in Accountancy, working as an accountant for several years before earning her CPA in 1988. Her primary areas of focus were small businesses and personal taxes.
She is a co-founder of a small nonprofit corporation that focuses on education on the dangers of alcohol abuse. She has served as president of the charity since 1999 and traveled for several years speaking to high school and college students on its behalf. Cindy served as Co-Treasurer for Impact100 NWF in 2018.
Since retiring from accounting work in 2009 Cindy has devoted more time to hobbies, specifically golf and has been a core volunteer for Walton County Habitat for Humanity. She joined Impact 100 NWF in January 2016.
Dr. joyce gillie gossom, Vice President
Born in Chicago, Illinois, Dr. joyce gillie gossom has spent her life going against the grain. At the age of 16, she felt so connected to the poetry and style of e.e. cummings that her mother let joyce legally change her name to all lower case letters, which is frequently met with resistance.
joyce's more than 30 years of professional experience range from special education teacher to elected official. Throughout her career, she has almost always served as an active member or officer with civic, professional, and community organizations.
joyce and her husband have lived in Fort Walton Beach, Florida since 1999. She likes butterflies, the colors purple and yellow, Winnie the Pooh, and large bodies of water. Currently, she serves as Executive Director of the National Association of Branch Campus Administrators and Princess of Best Gurl inc, a unique, multi-platform company committed to all forms of effective communication.
Mary Pat Cedarleaf, Treasurer
Mary Pat Cedarleaf graduated from the University of California at Berkeley with a B.S. in Business Administration, Accounting. She began her career at Arthur Andersen in San Francisco. She then joined a boutique CPA firm specializing in real estate where she became a partner. Mary Pat left public accounting in 1999 and joined a start-up software company as Director of Finance, working with individual and venture capital investors.
She and her husband moved to Sandestin in 2004 when he joined Intrawest. She retired as a CPA, but continued to consult with the software company in San Francisco until 2006, when she assisted with the sale of the company for $185 million. She is currently a licensed realtor and works with her husband, a broker associate with Keller Williams. She is also the Business Manager for Resurrection Catholic Church.
Mary Pat has served as Treasurer for Scenic Walton, National Charity League, and the Foundation for Osteoporosis Research and Education. She has also served as Vice President of the Lafayette, CA Chamber of Commerce, a Board Member for the XP Family Support Group and Trustee for Leadership Contra Costa.


Pauline Sotiri, Secretary
Pauline Sotiri spent a year in India doing voluntary work, trained as an Occupational Therapist and after a year working in a South London psychiatric hospital moved into the computing profession. She worked for IBM for 25 years. Pauline has two daughters and now 6 grandsons. Having moved around IBM in various divisions she has a broad knowledge of business and a willingness to accept the challenge of change. She retired and moved to the states in 2004 and ran a bagel shop in Destin for 8 years. She is actively involved in various organizations in the area: President of Bayside at Sandestin Condo Assoc., member and now Chairman of the Rental Advisory Board in Sandestin and recently treasurer of the Friends of Eden Gardens. She joined Impact 100 NWF two years ago and has participated in many events and sat on three committees.




Teresa Allen
Teresa Allen is owner of Common Sense Solutions, a national customer service training and consulting firm. An author of two books on customer service, Teresa is recognized as one of the top customer service experts in the world and has presented her keynotes and seminars at meetings across the U.S. and abroad for 25 years. Teresa loves to research service trends to share with thousands of followers on social media.
A native of Chicago, Teresa attended Miami University in Oxford, Ohio where she obtained her B.S. in Business Administration with a degree in Marketing and met her college sweetheart to whom she has been married for 40 years. The Allens have two grown daughters who reside on the east and west coasts. eee
Since relocating to Destin in 2018, Teresa has become very active in local business and civic groups. She loves to travel for work and pleasure, as well as golfing, boating and beach time with her husband. Teresa has been a member of Impact 100 for two years and has served on the Family Grant Committee and the Communications and Membership Committees. She is passionate about sharing the 'Impact of Impact100' with anyone who will listen!
Cynthia Bowles Hyatt
Cynthia Bowles Hyatt attended the University of Alabama in Tuscaloosa, Alabama. She obtained a Bachelor of Science degree in nursing from the University of Alabama, Birmingham. Her graduate studies are in Public Health at the University of Alabama, Birmingham. Cynthia was employed at the University of Alabama as a Nephrology Nurse for 1 year, was the clinical research coordinator in the Department of Infectious Diseases, administrator for the Mycosis Study Group (NIH Project) in the Department of Infectious Diseases for 13 years, worked in clinical research at Eli Lilly as a Regional Manager of Clinical Research Monitors for 6 years, and was a regional senior clinical site monitor for Bristol-Myers Squibb. Her responsibilities included managing and monitoring clinical research in the Southeast and managing contract monitors.
Cynthia retired to the Emerald Coast in 2016 from Alabama where she had a successful career in healthcare that spanned from nursing to clinical research. Cynthia joined Impact100 NWF in 2016 and has been actively involved with our Community Partners and the Arts and Culture Grants Review committee. She continues her community involvement by holding offices in other local civic organizations such as the Destin Women's Club and Green Thumb Garden Club.
Barbara Britt
Barbara Britt has a passion for making a difference in the lives of others. Barbara taught and coached for over 35 years at Fort Walton Beach HS. During her time there, she developed the largest leadership program in the country for high school students and spent 16 years implementing and developing that program.
As a member of John C. Maxwell's international speaking, training and coaching team, she conducts leadership, personal, and professional development training for a variety of organizations. She is also a certified trainer with Jim Rohm Personality Insights. Over the past several months Barbara has been training the next generation with the John Maxwell Youth Max Plus program, with an emphasizes on areas of bullying, suicide, success, Y.O.U. (You are Important), strengths, and gifts.
Barbara serves her local community of Fort Walton Beach, Florida and throughout the world. Active in the Greater Fort Walton Beach Chamber of Commerce, she served as the Assistant Program Director for the Chamber's Youth Entrepreneur Academy. She also served as a civilian Honorary Commander of the 505th at Hurlburt Field, worked with the local Building Homes for Heroes organization, served on the Board for the Emerald Coast Science Center, chairperson of the Women Connect for the Chamber, and Programs Director for American Business Woman Association Emerald
Coast Chapter. Barbara is currently on the Board for Fresh Start, the chairperson of the Education Committee, and on the Board for the Distinguished
Young Women of Florida.
She has international training and speaking experience with Transitional lifestyles of the military child, working with Military Child Education
Coalition as a trainer. She also did Transformational Training for Paraguay and Costa Rica with the John Maxwell Company.
Marty Broderick
Marty Broderick a Pittsburgh native, moved with her husband via Franklin, TN to Sandestin in 2017 after a career in
sales/sales management.
A long time member of the Junior League of Pittsburgh, Marty was involved in the startup and development of many ongoing projects: The Children's Museum, Vintage Senior Service Center, Juvenile Court Mentoring Program, JL Showhouses and served on the JL Professional Committee Board. Outside community projects included the Mt Lebanon Extended Daycare Program as well as various church and school committees.
In Franklin, Marty became a certified volunteer with SaddleUp in the therapeutic riding, Equine Based Learning and Hippa-therapy programs. Additionally, she was involved in Meals on Wheels, Grace Works School "Fuel" Backpack Program and the Vanderbilt Breast Cancer Golf tournament.
Upon moving to Sandestin, Marty joined Impact 100. She volunteers at Habitat, Special Olympics and is on the SLGA BOD.


Valerie Burrelle
Valerie Burrelle joined Impact100 NWF in 2017 and quickly became involved with their Communications team.
Currently serving as the Communication Chair, one of her main goals is to spread the word on what a wonderful
organization Impact100 is for our community.
With her vast professional experiences that includes Financial Services, Hospitality, Environmental and Business Services, her skill sets have been greatly used within the organization. With a B.A. degree in French/Business Administration and an MBA in International Management, she has been able to travel, work and live overseas that include London, Paris, New York and Chicago, to name a few. However now she is very happy to call the Emerald Coast her home.
She is a past President of the Chicago Francophone Bilingual Toastmasters International Club and has been involved in several Boards that include Keep Chicago Beautiful and the Eglin Yacht Club. She also takes time out of her busy schedule to volunteer with local animal shelters and Fisher House of the Emerald Coast. She is currently working for a defense contractor in the local area.
LeAnn Caravello
A native Californian, LeAnn received her Bachelor of Arts degree in speech pathology at California State University and Master of Arts in communication disorders and special education teaching credential from the University of the Pacific. She has held positions as clinical director in the private clinic setting and department manager. As a speech-language pathologist, her passion is her continued work with adults with communication deficits due to stroke, traumatic brain injury and communication disorders associated with other neurological disorders. She has served as a facilitator and lecturer for support groups serving these individuals. LeAnn is a member of the American Speech and Hearing Association and the Florida Association of Speech – Language Pathologists.
She is a volunteer at the Shalimar Library, a nonprofit library. Her additional responsibilities at the library include publicity and special events. Through Shalimar Methodist Church, LeAnn serves on the Children's Sandwich Ministry which provides Sunday lunches to children in need. She also chairs the Galleria Committee of the Holly Fair with proceeds supporting local charities.
LeAnn has been an Impact100 NWF member since 2015. She has served on committees for art and culture, health and recreation, education and environment. In addition she has served on the Annual Meeting Committee for three years.



Kristine Coyle
Kristine is a retired manufacturing executive, spending over 35 years in steel and aluminum. After growing up in Chicago's near north side, she received her degree at the University of Michigan. She began her career in the Detroit area in Industrial engineering and strategic planning, and then moved with her husband to NW Indiana where she was President of an investment cast foundry and then CFO/COO of an aluminum sheet company. Upon retiring from manufacturing, she became a licensed financial advisor, receiving both Series 7 and Series 66 licenses. She then began consulting for a new steel facility in Alabama, and fell in love with the Destin area. She and her husband moved here permanently in 2017, joining Impact100 shortly thereafter. Kristine has served on the Finance and Grant Review committees, and is now excited to join the Communication team.
Kathleen Edge
Kathleen Edge, a native of Pittsburgh, PA, has lived in many places including Fort Walton Beach in the 1970s and Tokyo, Japan. After 35 years on a ranch in California, she and her husband made their life-long dream to retire on the Emerald Coast come true in 2013.
She graduated magna cum laude with a marketing degree from California State University. She is also a graduate of the Thunderbird School of Global Management Executive Education Program. As a global business development manager for a Fortune 500 company, her primary areas of responsibility were leading sales growth through strategic planning, execution of growth initiatives and managing customer relationships. She served as a Board of Director for several industry-related organizations.
Since retiring in 2016, Kathleen served for two and half years as a Board of Director/Treasurer of the local non-profit, Coastal Seniors of South Walton, Inc.; two years as Ways and Means Chairperson for a local garden club; and recently became a volunteer for the Emerald Coast Theatre Leading Ladies. She joined Impact100 NWF in 2017.

Della Goodson
Della Goodson is a founding member and adviser to the Board of Directors.
Amanda Gordon
Amanda Gordon received her law degree from the University of Florida, where she also obtained an undergraduate degree in Criminology. Amanda's legal career has included work as a trial attorney for the Department of Justice, Antitrust Division, Networks and Technology Section in Washington, D.C., serving as a Special Assistant United States Attorney in the Eastern District of Virginia, and as a law clerk for the Honorable Lacey A. Collier, United States District Court for the Northern District of Florida. Upon moving to Okaloosa County, she pursued her passion for justice with the Office of the State Attorney as a Special Prosecutor handling violent crimes.
Amanda joined Impact100 NWF in 2012 and has served as a Grant Liaison and has chaired the Education and Environment Committees, hoping to assist in the preservation of the amazing natural resources of this area. Amanda has also served on the Board of Directors of the Junior League of the Emerald Coast, the Bench and Bar Professionalism Committee, and Safe Connections, which provides supervised visits and exchanges for children affected by abuse, neglect, and domestic violence.
Carly Harmer
Carly Harmer is the Executive Director of Caring & Sharing of South Walton. She moved to the area ten years ago after graduating from Florida State University with a Bachelors of Science in Family and Child Sciences. She currently lives in Santa Rosa Beach with her fiancé Geoff and their labradoodle Sunny Cha Cha. Carly is very involved in the nonprofit community along the Emerald Coast serving and volunteering with multiple organizations. She currently works with the Junior League of the Emerald Coast as the VP of Community Affairs, The Walton Area Chamber Young Professionals, and is a member of the local Florida Public Relations chapter. Carly joined Impact100 as a NextGen member in 2017.
Mary Hemard
Mary Hemard received a B.S. in Food Science from Purdue University, and a M.S. in Food Science from Louisiana State University. She spent her professional life teaching at Nicholls State University and working with the seafood industry to insure seafood safety for consumers. Her research dealt with enteric viruses and bacteria found in shellfish effecting humans. She has multiple books and articles published regarding these areas. She has been a speaker on seafood safety at local, regional, national and international meetings and symposia. She loved teaching and advising students in the fields of Microbiology and Immunology, and she received the President's Award for Teaching Excellence at Nicholls State University, where she retired as an Assistant Professor of Biological Sciences. She served as a Board Member of the Louisiana Seafood Promotion and Marketing Board and the Louisiana Center for Women and Government.
Following their retirement, Mary and her husband attended the 2002 Winter Olympics in Utah and decided to stay. Eleven years later they moved to the Panhandle where Mary first learned of Impact100 of Northwest Florida and she has been very involved with the Grant Committee for the last three years.
Carol Merkle
Carol Merkle and her husband Art moved to Fort Walton in 1985, after completing residencies at the University of Alabama School of Dentistry and she continues to practice full time in her specialty of endodontics. She has been involved in organized dentistry during this time, both at the local and state levels; most recently serving as president of the Alabama Dental Alumni association.
Local organizations in which she has participated include ABWA, the IB Foundation at Choctawhatchee High School, St. Simon's Episcopal Church—serving in Christian education and the vestry, and as a provider for the Community Volunteer Health Network. She has been a member of Impact100 NWF for several years.
Vickie Ritchson
Vickie joined Impact100 NWF in 2016 and currently leads the Membership recruitment and retention efforts.
Originally from the Midwest, Vickie joined the United States Air Force where she met her husband of 39 years. The military allowed them to live in various locations in the US and abroad which brought them to the Emerald Coast, making this area their permanent home since 1993. They are parents of 3 grown and married sons and grandparents to 5 wonderful grandsons.
Vickie's background is in banking, home business, sales, computer operation, geospatial integration, process optimization, software testing, quality assurance, project management, and system analyst. She earned an Associate in Applied Science degree in Industrial Management Technology and a Bachelor of Applied Science degree in Project Management/Quality Improvement from NWF State College in 2010. Vickie received a Project Management Professional Certification in March of 2018. She has also been helping families as a facilitator for Financial Peace University for the past 7 years.
Vickie is an active member of her church and volunteers for many ministries and projects.
Sandy Trammell
Sandy Trammell grew up in Niceville Florida in an Air Force family stationed at Eglin. After graduating from the University of West Florida, Sandy married her husband in 1973 and moved to Destin. She is a Retired (30 yrs) Okaloosa County educator with certifications in Elementary, Early Childhood and Special Education and has a Masters Degree in Educational Leadership. During the last 10 years of her career, Sandy was a Staffing Specialist for the District serving all schools and the 6 Juvenile Justice facilities.
Sandy served as a Destin City Councilwoman serving 2 terms from 2008-2016 and served 2 years on the school advisory council for Destin Middle School. She is currently serving on the Board of Directors for Destin Water Users and on the City of Destin, Harbor Community Redevelopment Agency Advisory Council. Sandy and her husband own/operate a warehouse leasing business in Destin. Sandy also owns a paper crafting business and teaches paper crafting.